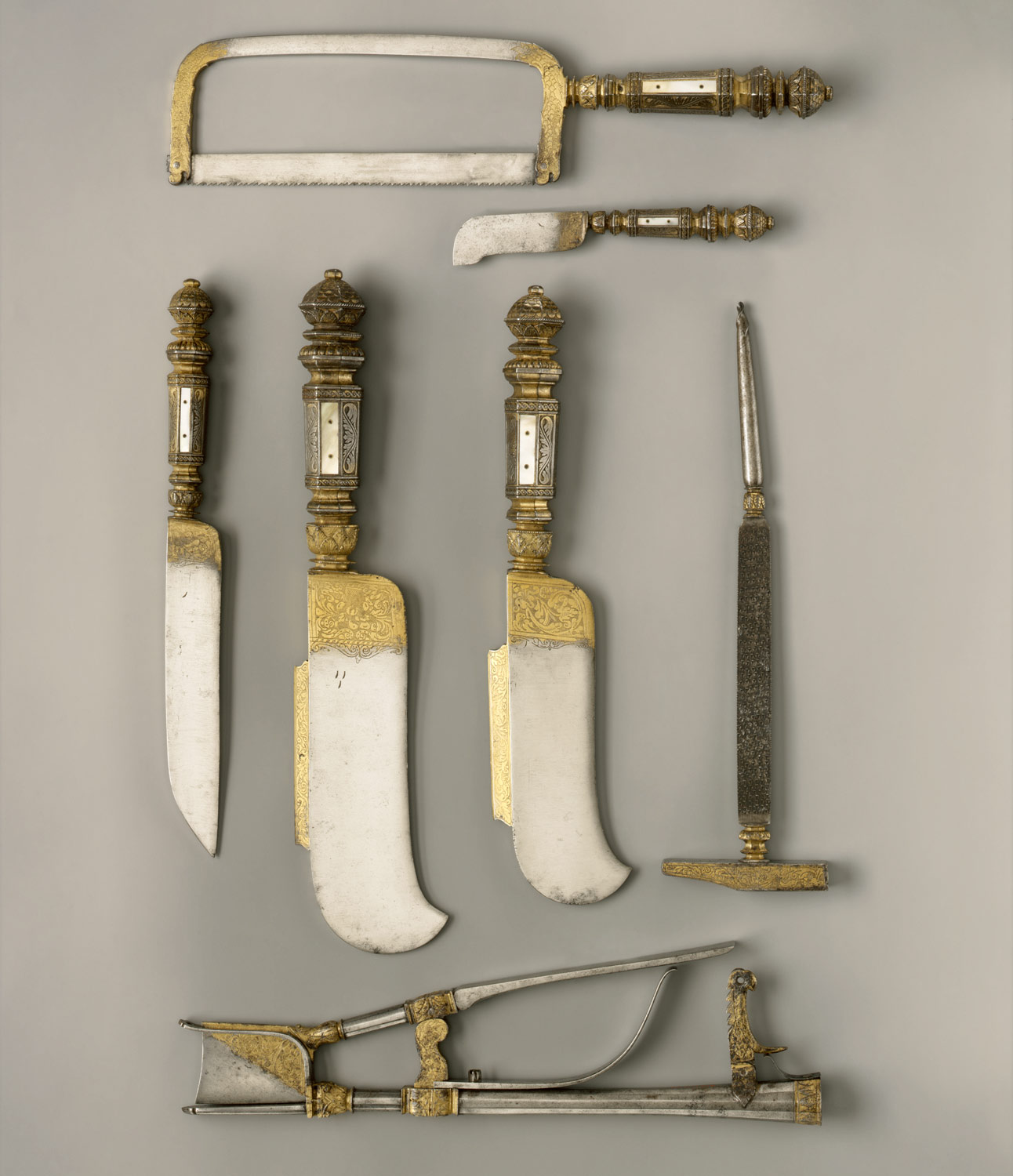 How far we've come. Courtesy of the New York Metropolitan Museum of Art is this set of French pruning tools from the late 1500s:
Forged and decorated in Moulins, this partly gilded steel set of gardening implements, enhanced by mother-of-pearl, is engraved with motifs of fruit and foliage, the products of their use. The set includes billhooks for removing branches and clippers that could be mounted on a pole. A pruning knife, saw, and combination hammer and auger to cleave tree bark for bud grafts are evidence of the care taken in trimming and directing tree branches.
Not sure if Corona Clipper offers a gilded set, but it's worth asking.
Here's a great resource available from Marty: a big stack of business forms ready to integrate into your operation. Everything from HR to production to sales.
Check it out today – it might save you a few years of headaches.
Ben Bowen at Ross NW Watergardens in Portland today has a good read on negative Yelp reviews, and the frustration that comes from dealing with these anonymous and unfiltered review sites.
Short version: The company got a bad review from someone they've never done work for.
Longer version from Ben:
What makes this really frustrating is what we didn't do. We didn't prune the wrong bush. We didn't burn the lawn. We didn't install a leaky water feature. In fact, we never did any work for the person at all.

W.S. left us a 1 star review based on a missed appointment. I believe I know who W.S. is. And I think I know what happened. If he had left the review using his name I would certainly reach out to him.

To W.S. I would like to say: "I'm sorry that I missed the appointment. I obviously misunderstood our last email exchange. Can I send you a Starbuck's card for your trouble?"
Ben handles this with class and candor. He wrote a great piece for us earlier this year about dealing with unhappy customers, and it's nice to see him practicing what he preaches.
It's a great, quick read, and you can find it here.
We're all over the map this week: goats, pet food, World War I-era trees and an in-depth look at how Americans self-identify as middle class.
Our friends at ValleyCrest have put together a great list of reasons why native and "drought-tolerant" plants die. It's a great, quick read that's worth sharing with your clients.
Yeah! You made the effort to be green and you jumped on the conserve water, only use drought tolerant, native plants sustainability bandwagon and what happened? The plants died and you want to know WHY??? Here are 5 reasons why your drought tolerant, native plants died.

Yes, plants can be drought tolerant, but unless they are petroleum based (plastic), silk or preserved. They are going to need some water.

Often new plants are added to existing plantings. Ergo the problem. Established plants require less water than newly installed plants. Irrigation systems are often "dialed back" for established plants to conserve water and may not provide enough water for the new plants. But before you go and jack up the irrigation, check out the next reason plants die.
Get the full list here.
In the early days, Bob Pedatella wanted his company, Kodiak Landscape Design in Haskell, N.J., to be one of the biggest on the block.
But working to get his hardscape company through the recession and fighting for every scrap of market share he can get has changed that outlook.
Before, I used to be proud of how big we were and how many trucks we had," he says. "Now, I'm proud to be in business. I don't need 100 trucks to make money. And I'd rather have 50 quality accounts than 100 that don't pay me on time."
You can read more from Pedatella and how he's focused Kodiak on quality, not quantity, in our September issue.
As we close out July this week, I wanted to share this item from Bruce Birdsong and Precision Landscape Management. Precision was featured in a great EPA WaterSense case study:
Certified professional Bruce Birdsong is the president of Precision Landscape Management, which assumed grounds maintenance duties at Granite Park's 372,000-square–foot landscape in 2008. After conducting an irrigation audit that revealed room for water efficiency improvements, Birdsong and his staff replaced the landscape's clock timer irrigation controllers with weather-based models to tailor watering schedules to onsite weather conditions.

The landscape management firm also initiated routine system inspections to ensure Granite Park's continued water savings. Maintenance measures included replacing broken sprinkler heads, ensuring adequate coverage, checking the system for leaks, and verifying proper controller programming and scheduling. In addition, rain and freeze sensors were installed to prevent watering at unnecessary times.
All in all, the system upgrades saved the office complex 12.5 million gallons of water and $47,000. We were on the case earlier this year when we profiled Precision's irrigation department in our March issue.
And if you haven't seen it yet, check out our July Water Issue for even more on how to position yourself as a water savings adviser.
I was talking with Jerry Maldonado last week and he told me this great story about how his father started their business.
In the 1980s, Roy Maldonado bought a patch of land in San Antonio, cleared it enough to park trucks on, and started his landscape business with his three sons: Roy Jr., Jerry and Oscar.
Because they were just starting out and an hour from their hometown of Kerrville, Texas, the four of them lived in the trucks until they had enough money to build a shack on the property.
For years, they didn't have running water or electricity. Just a hot plate they plugged into the cigarette lighter to cook cans of beans on.
The whole time, people were telling Jerry to quit and go to work for someone else and get the hell off this 'ranch' in the middle of San Antonio.
But he didn't. His dad had always told him and his two brothers to never work for someone else. "Don't waste your time making somebody else rich," he would tell them. "Do it for yourself."
A few years sleeping in a truck seems worth it today – Maldonado now does about $30 million a year and employs 400 people.
Good thing Jerry's a bad listener. You can read more from him in our forthcoming September issue.
So much good stuff this week, it was hard to pick. But I have to say my favorite is the above video, which illustrates exactly how an engineer's mind differs from the rest of ours. What would happen if we took that racing bike and put it inside that riding mower? To the shop!
I'm a sucker for a nice set of ampersands. (via Paris Review)